Happy birthday to V! Happy birthday to me! (No apologies for the title, as "A Pirate Looks at Forty" is a great song!) And what better way to celebrate than to look some of the titles I've narrated during this trip around the sun! So, if you're looking for new audiobooks that you might have missed when they were first announced, you've come to the right place!
THE TERRA GAMBIT by Terry Mixon
Book 8 of The Empire of Bones Saga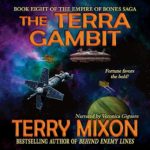 From Amazon: Sent on a mission critical to the survival of the New Terran Empire, Jared Mertz must travel deep into the AI-dominated Rebel Empire on an operation of deception. Only there are games afoot that no one could foresee and players at the table that no one could expect. The stakes couldn't be higher. When unexpected enemies deal themselves in, Jared must bet everything on a single hand. Bluffing might get him killed but folding isn't an option.
As this is my blog, I don't have to hide the enjoyment I get from narrating this series. Working with Terry to bring these characters to life is so much fun, and this story is no different. It helps to be familiar with the series to fully experience this title, but it's not a requirement.
Check out the title on Audible. Want to get started on the series? Get three books for one Audible credit!
VAMP CITY by C.D. Brown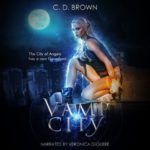 From Amazon: All Sophia Fontanelle wanted was to be left alone. On the run from New Orleans and its vampire council, she heads to Los Angeles to start a new life. But when The Caballero, the ancient peacekeeper rumored to be the great Zorro himself, is murdered, Sophia finds herself caught up in a fight to clear her name. Threatened by a 1950's era gangster turned vamp by the Caballero himself, can she survive in VAMP CITY?
One of the best things about narrating for indie authors is being able to remember the first time an author tells you about their book. I was at Balticon, lending my voice to an anthology reading that Charlie had orchestrated, and he started to tell me about Sophia and the Caballero. "And a Barcelona accent," he had said. "And she's from New Orleans, so you'll get to learn the accent the RIGHT way!" So I did. And here we are.
Check out this title on Audible.
MONSTER WHISPERER by Nobilis Reed
Narrated by Vivienne Ferrari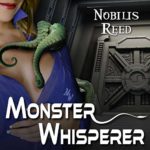 From Amazon: If there's something wrong with your tentacle monster, who are you going to call? Dale Clearwater: Monster Whisperer. With her own ship and a menagerie of tentacle monsters, she travels from world to world, rehabilitating monsters and training the people who love them. From the amorphous, fluid Kritzoan to the stone-like Nalcheka, Dale embraces the monsters and records her encounters for a reality show that broadcasts to countless worlds. One might think there's nothing she couldn't, or wouldn't, do. Still, when she gets a call from her old colleague (and old flame), Dale nearly turns him down. Nearly. Joining him to capture a particularly dangerous monster is part of an adventure that has the potential to change their universe–or lose Dale her monsters, her ship, her show, and everything that she holds dear.
My alter-ego, Vivienne, narrates some of the more adult titles in my catalog. Nobilis has always managed to blend sci-fi and sex-positive into really engaging stories, and this one is no different.
Check out this title on Audible.
LIBERTY STATION by Terry Mixon
Book 1 of the Humanity Unlimited Saga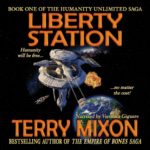 From Amazon: Humanity will be free, no matter the cost! Deep in the Guatemalan jungle, buried beneath a forgotten Mayan pyramid, an earth-shattering secret sits waiting. Its discovery will rip apart the illusion that humanity is alone in the universe. Engaged in a life and death struggle for the future of mankind, Harry Rogers and Jess Cook are forced to protect this secret from the most despicable foes imaginable. They must race across the globe to complete Liberty Station, the first true interplanetary ship. Only then can they search for the shocking truth behind what they've found. They have no room for error, because failure means death for them and subjugation for everyone else.
A second series for Terry means double the enjoyment for me! I love near-future science fiction adventure, and these characters come to life in the first few chapters. The second book in the series is on deck at the time of this posting, so look for Freedom Express before the end of 2018.
Check out this title on Audible.
THE SOUND OF BROKEN RIBS by Edward Lorn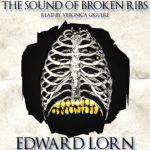 From Amazon: Lei Duncan has it all: the ideal life, the perfect career, a loving husband. What more could someone ask for? It is with this in mind that Lei takes her morning run. Belinda Walsh has lost it all: her home, her husband, her mind. She thought she knew Dan, but one phone call changed all that. Now everything she's known to be true is a lie. It is with this in mind that she goes looking for something—or someone—to destroy. When the lives of two strangers intersect, something will be born of the connection. For one of these two souls, the truth of the world will shift and morph into something powerful and dangerous. A darkness of the mind, a tear in sanity.
And something will peek through that darkness, beckoned by the sound of broken ribs.
E. has the singular distinction of being the only author for whom I've narrated who had given me nightmares. And I will happily give up a night or two of sleep to bring his stories to life. He's an artist with words and masters contemporary horror at a pace that keeps you listening until the very (and terrifying!) end.
Check out this title on Audible.
LIGHTNING STRIKES TWICE by Sarah K. L. Wilson
Book 2 of the Unweaving Chronicles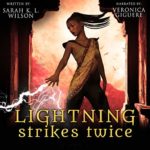 From Amazon: They say lightning never strikes twice – but they haven't met Tylira. Tylira Nyota did the unexpected when she found the legendary Teeth of the Gods, but her unweaving magic is unraveling her world at the seams and their only hope for survival is a guess by her ancestor and a journey to another world. Worse, Tylira and her san'lelion, Rusk Hawkwing, enter that world only to find themselves in the middle of a war with no allies and no way back. Tylira managed to do the impossible when she won the race for the Teeth of the Gods, but can she do it again in the world of Axum with a powerful ruler bent on her destruction and a band of strange monster-riding barbarians her only allies? Will she find a solution to save their world from destruction? And what will she have to sacrifice just to get home again?
I devoured YA fantasy when I was younger, and the Unweaving Chronicles brings me back to those years when I'd curl up with a book and lose myself in a world of magic and faraway lands. Tylira is the sort of heroine I loved as a teenager.
Check out this title on Audible.
The year's not over, so look for new releases here and on Facebook, Twitter, LinkedIn, and Instagram. And, as always, thank you for listening!