Summer is full of projects. I've been working on a new series, Thrive Space Colony Adventures by Ginger Booth. The first book was released in April 2021 and the second is in the approval process over at ACX. We're working on #3 and #4 this summer, so listeners won't have to wait long to enjoy the tales of Sass Collier and the crew of Thrive.
There's also been a Secret Project in the works. When I can say more, I will… but you'll likely understand why I'm so excited about it. It's one of those dream titles that I can't believe I get to narrate. It's going to be AMAZING.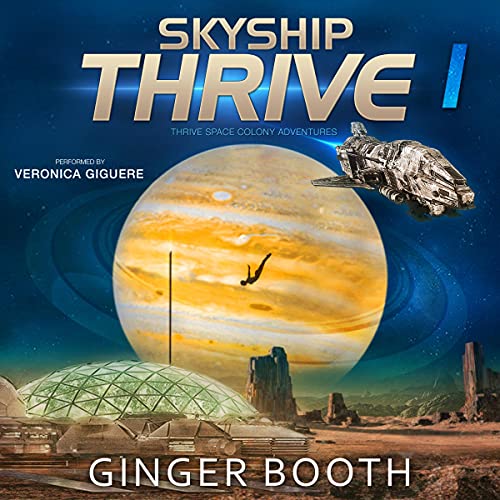 Skyship Thrive
by Ginger Booth
Thrive Space Colony Adventures
Released April 2021
An ex-cop who cannot die. A moon full of settlers who cannot thrive.
Mahina's terraformers built a high-tech urban paradise. Then Earth flooded the colony with desperate refugees, cop Sass Collier among them. The settlers who arrived with Sass died decades ago. Outside the citadel, their descendants die weak and young.
Sass fought a rebellion against the city once. She won concessions to give the settlers a chance at health. She paid with 20 years in prison. Now she's out, a reformed character. She assembles an oddball crew doing odd jobs. She intends to mind her own business – how to make a profit on the skyship Thrive.
But her fellow settlers are still failing.
While her business model careens toward circus acts, Sass dares to defy the city again, to solve Mahina's failure to thrive.
Pick up Skyship Thrive because you love upbeat character-driven SF with fun technology. Suggested for fans of Firefly, Lindsay Buroker's Star Kingdom, or Nathan Lowell's Golden Age of the Solar Clipper books.