Funny how the year shakes out, huh? 2018 marked my first full year as an audiobook narrator, which brought a wealth of challenges and triumphs. While I didn't narrate as many books as I wanted to, I did invest time and resources into some awesome coaching. I also redid my website, started this blog, and strengthened relationships with current authors. I attended APAC for the first time, recorded new demos, and became more active on social media in a more professional sense.
Oh, and I got to see the last book of The Secret World Chronicle novel series published. That was epic, considering that it's the series that launched me into the world of podcasting and audiobook narration. Full circle, eh?
So, what do I want to do for the coming year? What do I want to accomplish in 2019?
Narrate More Books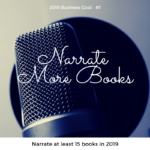 This seems like a no-brainer for any audiobook narrator in the early stages of their career, but I'm a fan of tackling the most obvious goals first. In 2018, I narrated eleven books alongside a slew of podcast work, both for Secret World Chronicle and for short story podcasts. Slow, but I was able to establish a workflow and find excellent audio engineers to edit and master those projects. Many of those projects were for established authors and series, which helped the sales of previous books in the series. For the coming year, I'd like to narrate at least fifteen books. That comes out to more than one a month, a completely realistic goal when outsourcing proofing, editing, and mastering, and leaves room for going beyond that initial benchmark.
Work with New Authors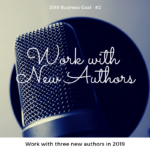 Narrating more books in the coming year means working with new authors. New authors doesn't necessarily mean completely new people, just authors for whom I've not narrated yet. Being part of a great creative community like Balticon and finding fellow authors among the Listeners of the Dead Robots' Society podcast are both great assets as an audiobook narrator. Sometimes the up-front cost of an audiobook can present a challenge, but I'm always open to having a conversation about pricing, funding opportunities, and promotion with indie authors. For my part, I'd like to work with at least three new authors this calendar year. Maybe on one book, maybe on a series, but for 2019, I want to grow my circle of authors by three.
Audition, Audition, Audition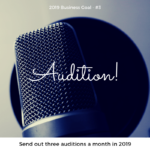 Again, this goal goes hand in hand with the first two, but it requires a little something extra. For me, auditions are one of the more difficult aspects of the narration business because they involve (*gasp*) reaching out to people I've not met and demonstrating that I can be the best match for their work. It's the sort of thing that makes my anxiety twinge, but it's a necessary and vital component of being a working audiobook narrator, especially at this stage in my career. I've been fortunate for the past year to have steady work from my established authors, and that's translated into great royalties and fantastic sales. For the coming year, I want to put out at least three auditions a month, on top of my regular work and podcast commitments. If more happen, awesome! Still, setting the bar at something challenging yet achievable is what establishing goals is all about, and three per month comes out to 36 in the year. If ten percent of those turn into gigs, that's three books I wouldn't have narrated, had I not auditioned for them.
Treat It Like A Business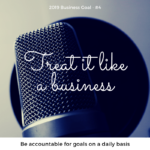 I'm not sure if this is the easiest of the four goals or the hardest, but it's certainly necessary, given the other three I'm establishing. One of the quotes I keep above my desk is by Julius Erving, and it sums up the necessary attitude for any small business owner in a single sentence.
"Being a professional is doing the things you love to do, on the days you don't feel like doing them."
And the truth is, I love narrating audiobooks. I love finding new stories and characters and ideas, and I love being able to put them out in a form that more people can access. I don't always love the self-promotion, the auditioning, the bookkeeping, or the scheduling… and truly, I don't have to make myself love those parts. I do, however, need to recognize and accept that they're part of this adventure, and there's no success in this career without making time for them. So, for 2019, I need to stick a little closer to my schedules and monthly (or even weekly) benchmarks. Even though I'm balancing the business with my family obligations, that doesn't mean that I can use those obligations as an excuse to avoid the work that I need to accomplish for a given day. Self-care is all well and good, but there's a line between "I need thirty minutes to rest, recharge, and eat lunch" and "This one thing bothered me, so I'm throwing in the towel on the rest of the morning."
Treating this like a business means using my planner and sticking to the goals I've established, in addition to the regular practices in my #narratorbiz repertoire. It means putting in the time on a daily basis and taking action on each listed item, rather than just talk about taking action. It means putting on my #momboss hat and holding myself accountable to what I know I can accomplish in the next twelve months.
And, it means that I'm going to need another cup of coffee. Happy 2019!